Air Travel
South Dakota Mines is in Rapid City, South Dakota. Its airport is Rapid City (RAP), serviced by United, Delta, and American airlines from Dallas, Denver, Minneapolis, Salt Lake City, and Chicago. The airport is a 15-minute drive from campus. Many area hotels, including those with room blocks for the conference, have shuttles to/from the airport and/or use Rapid Ride as an airport shuttle. We will run buses between the hotels with room blocks and campus each morning and evening, and Lyft is available in Rapid City. Participants should be able to avoid renting cars if they would like to.
Local Transport
Transport between the Rushmore Hotel and the Conference Site in the morning and the afternoon of each day will be organized by Dakota Bus Service from Wednesday to Friday.
There will two shuttle trips departing from the Rushmore Hotel to SD Mines EEP Building
(1) at 7:40 AM from Rushmore – drop off at SD Mines 7:50 AM
(2) at 8:00 AM from Rushmore– drop off at SD Mines 8:10 AM
Shuttles to return from the SD Mines campus to the Rushmore Hotel (Wednesday and Thursday only):
(1) at 6:05 PM from SD Mines EEP – drop off at Rushmore Hotel 6:15 PM
(2) at 6:25 PM from SD Mines EEP – drop off at Rushmore Hotel 6:45 PM
Additionally, the Rushmore Hotel has agreed to provide an individual Shuttle Service to participants of the conference on request. Please organize such trips directly with Hotel Reception.
There is no general transportation organized for the afternoon of Friday, May 13th. If you have any transportation needs on Friday after the end of the conference, please contact the Registration Desk in front of the auditorium.
Directions to SD Mines Campus
https://www.sdsmt.edu/Campus-Life/The-Campus/Map/Directions-to-Campus/
SD Mines Campus Map
for more details see here: SD Mines Interactive Maps or SD Mines on Google Maps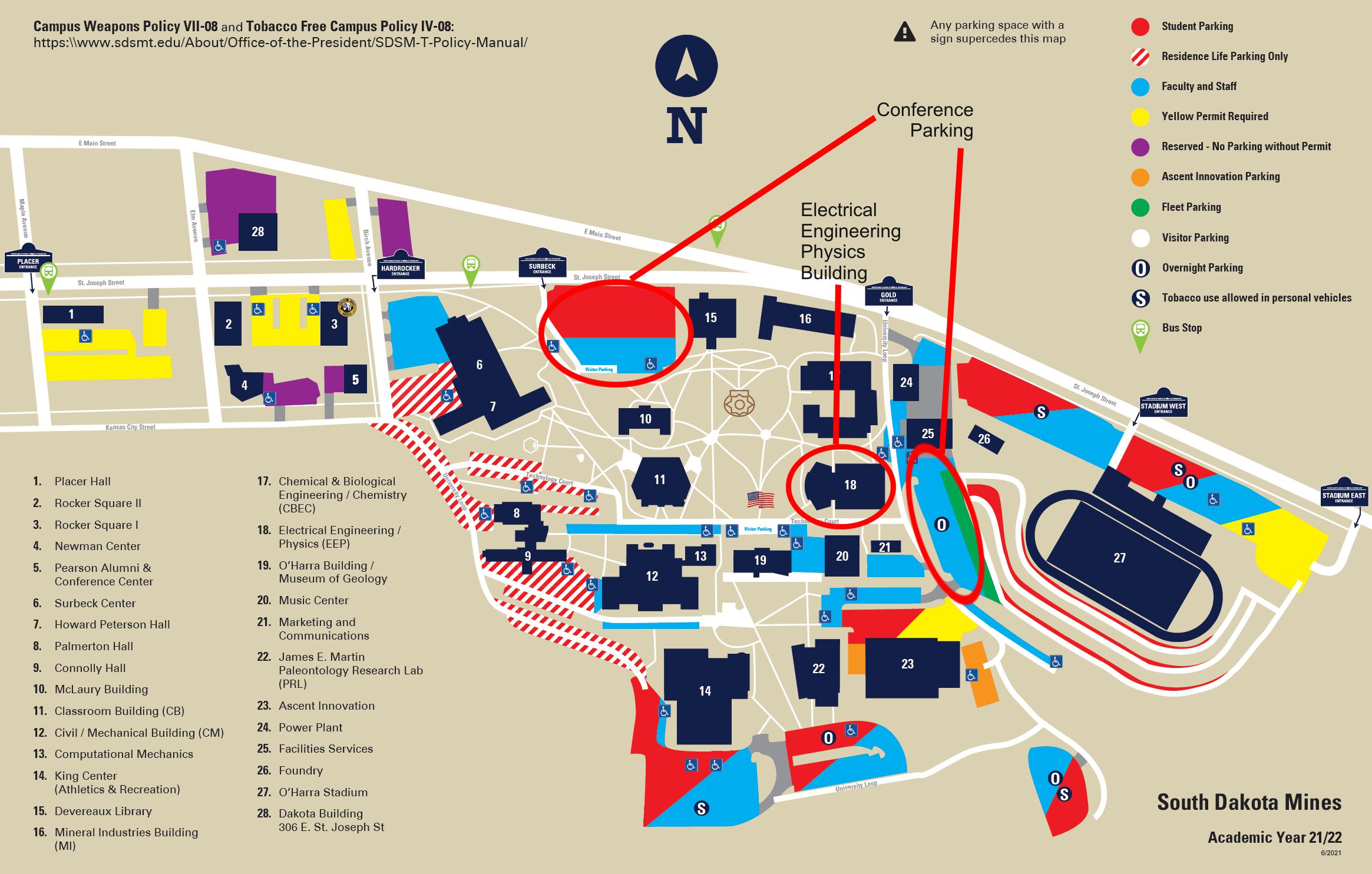 SD Mines will be on summer schedule during the conference, and parking will be free and unrestricted on any parking lot on this map unless restricted by special signage, e.g., handicapped parking or fire lanes.